You can change the country on your VPN Router at anytime. Once changed your VPN Router will give your devices an internet connection in the country you have set.
Firstly it's important to note that no matter which country you set your VPN Router on you cannot be blocked by ISPs from services such as Kodi and IPTV - unless of course there is a specific geo-block. Therefore more most users we strongly recommend selecting the VPN for the country you are based in. e.g. Use a UK VPN setting if you are in the UK - it is not subject to the same blocks as ISPs.
Here are the steps required to change the country on your VPN Router:
Please login to your account at https://www.libertyshield.com/Account/Login with your username and password.
From the "Payment Wallet" you will see a selection of flags for the countries that you can use on your VPN Router: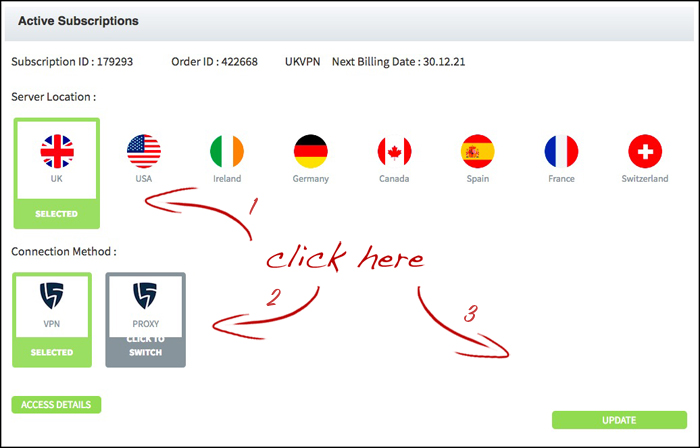 Select the country you require, make sure that VPN is selected and not proxy, then press "Update".
We then recommend you then power off the VPN Router and wait 1 minute, then power back on and wait at least 2 minutes more for it to power up and connect to the VPN network.
You should then connect your devices to your VPN Router and they will get a VPN IP address in the country you have selected. You can check this on any device with an internet browser by going to https://www.iplocation.net to confirm which country your device is seen to be in.
Information for users selecting France or Canada on their VPN Router:
France and Canada can be selected but these 2 locations are part of our legacy VPN network and not our tier 2 superfast network.
When you switch to and from these France or Canada it occasionally leads to an issue where our staff will need to manually change a setting on your account, please create a ticket if required.
The "Manage Router" section of your account area will always show your VPN Router as "Offline" when using France and Canada.
Netflix are able to block legacy VPN networks, therefore the localised versions of French and Canadian Netflix will not be available.