We generally recommend you do pre-book a remote time slot with us to ensure our staff are available to assist when you require.
*Remote sessions are usually available between 10am and 4pm (UK Time) 7 days per week - there may be some slots available outwith these times which can be arranged by special request.
Assuming you have a booking, just before agreed the time please download and install the TeamViewer application by clicking the button below: 

1) A download should automatically begin and you need to install the remote support software that is downloaded to your PC or Mac.
2) You will need to accept the disclaimer: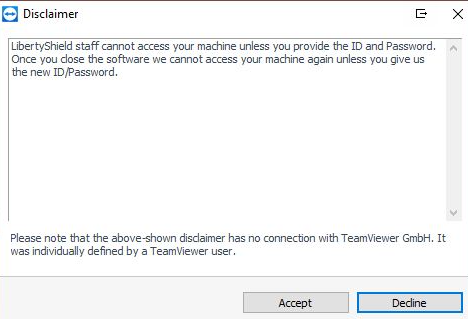 3) Once the software has installed you will be presented with a new window, which will provide you with your ID and Password: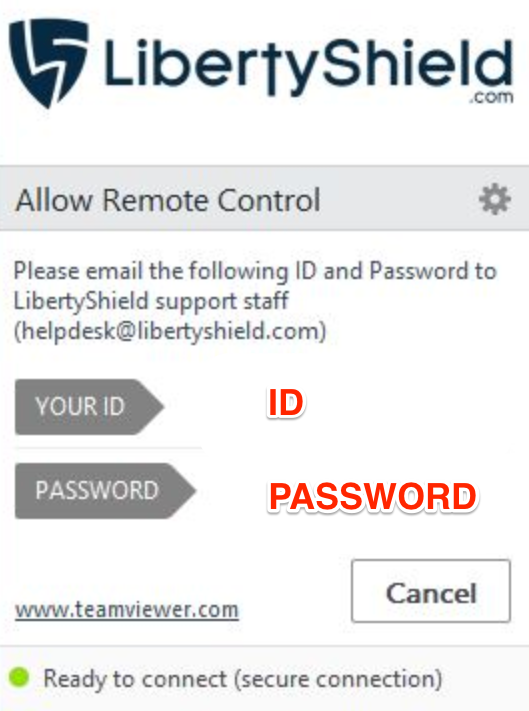 4) Please reply to the ongoing support thread with this ID and password or alternatively email it to helpdesk@libertyshield.com
VERY IMPORTANT: Please leave the above window with ID and Password running to allow staff to enter your machine as required.
Once the session is finished you can close the software and we cannot then access your machine again thereafter unless you provide us with the new ID and Password.
If you have any issues, as always please email us at helpdesk@libertyshield.com