Technically your Internet Service Provider (ISP) cannot see when you are connected to a Virtual Private Network (VPN).
All your ISP can see is a single connection to a secure (HTTPS) website address and also the amount of data being transmitted with your broadband connection.
When a device is connected to a Liberty Shield VPN Router it connects to the internet with PPTP or L2TP encryption and therefore your ISP cannot track, log or manage your connection in any way and therefore can subject your connection to traffic shaping or bandwidth throttling.
In the interests of this guide we have used UK ISP examples as we are physically located in the UK.

With this in mind then, how is it that my broadband speed slows down when using the Liberty Shield VPN Router?
Firstly with the way the connection is routed from your ISP to our VPN servers then your overall speed, when testing with a site such as fast.com; will always be slower than your ISP base speed.  Please click here for some general suggestions on improving your VPN Router speed.
It is our understanding that the major UK ISPs (Virgin Media, Sky, BT, TalkTalk etc) take a 'best guess' approach to which of their customers are using VPNs. Effectively if they see high bandwidth usage and no traffic logs then by process of elimination they might assume you are using a VPN and potentially throttle your internet speed when using the VPN.  Please keep in mind that most ISPs also offer TV services and it is not in their corporate interest yo allow video streaming via VPN; especially when they have no means of logging the websites and services you are accessing.
Our video below shows Virgin Media with a base speed of 160mbps throttled to 30mbps; and also shows Vodafone with a base speed of 36mbps un-throttled to 30mbps.
There are no official guides or data sheets on which ISPs throttle customers using VPNs but the common denominator between Virgin Media and Vodafone is that only Virgin offer a subscription based TV service separately to their broadband service.
What download speed is needed to watch video streaming?
This question is tricky to answer as it largely depends on the streaming provider and their server capabilities, for example major streaming platforms such as Netflix and BBC iPlayer use Variable Bitrate (VBR) to ensure that the stream will not buffer or stop should your connection speed drop during the stream.
Smaller or unofficial streaming providers will in most cases stream content using Constant Bitrate (CBR), where you are required to have the full allotment of download speed required to stream the content at all times to prevent buffering or loss of service.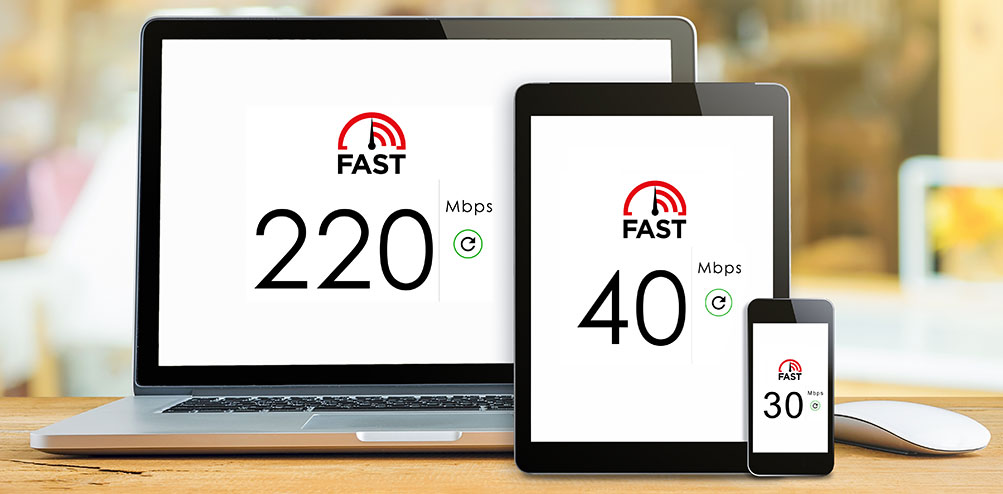 Below are the internet download speed recommendations per stream for playing TV shows and movies through Netflix.
3mbps - Recommended for SD video quality
5mbps - Recommended for HD video quality
25mbps - Recommended for Ultra HD (4K) video quality